Sun Acupuncture is a relaxing, professional Acupuncture-specific medical clinic at the corner of Minnetonka, Hopkins and St Louis Park, MN.  We offer traditional and modern approaches, most commonly for: Low Back Pain, Neck Pain, Anxiety and Depression.  Acupuncture and Chinese Herbal Medicine also benefit internal disorders in the digestive system, respiratory system, endocrine system and immune system as well.  Feel free to contact us about your specific disorder or if you have any questions. 
 Acupuncture is relatively pain-free and extremely safe.  Our needles are tiny, about as thick as beard hair!  In expert hands, your treatments will be enjoyable and relaxing.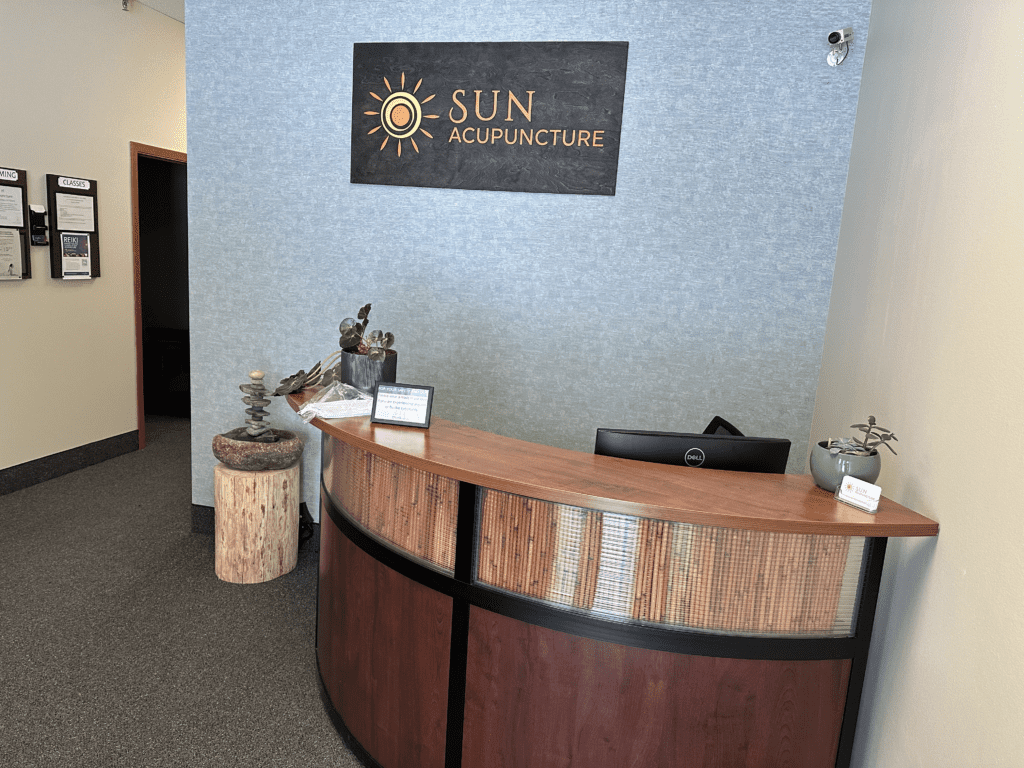 Whom you choose to trust with your healthcare is an important decision.  We offer expertise, transparency and collaboration to move you forward in healing with ancient and modern wisdom for growth.  Chronic disease is a journey.  We are honored to be your guide. 
Insurance is accepted in-network for HealthPartners, Blue Cross/Blue Shield (BCBS), Aetna, Cigna, Preferred One, Veteran's Affairs (VA), Medica and United Healthcare as well as Auto Accidents 
Improve your wellness, schedule your acupuncture session today
"This clinic is dedicated to FREEDOM from limitation and adversity that lie within."
We Teach Your Body To Heal Itself
Our goal is to treat patients comprehensively with expert diagnostics
that drive a realistic treatment plan for sustained success over 20 years!
Pain Free
Our technique for Sports Medicine Acupuncture combines the best remedies and methods of the East and West so you can get back to doing what makes you thrive.
Emotionally Free
Over 85% of disease is stress related. Fortunately, there is a way to overcome the destruction our unconscious limitations can cause with effective energy clearing therapy.
Dysfunction Free
Our comprehensive, sophisticated pulse diagnosis can reveal the myriad ways our inner imbalances cause blockages and disharmony. Then we begin the healing process.
Total Freedom
Acupuncture and Chinese Medicine can free you from physical pain, emotional imbalance and mental disharmony. The relief that opens from within can be transformational.
Uniquely Endorsed By Both Physicians and Patients
Read What People Are Saying
"Josh has made a huge difference in my medical practice. He has helped restore many of my patients to health. Specifically, he has alleviated pain and suffering on many occasions. I am so grateful and honored to have him as a colleague."
"Since I've started treatments with Josh Eha, I have taken fewer prescription drugs and have gotten back to regular exercise routines. He is an individual who truly cares about his patients and strives for excellence as a medical professional. Thanks so much Josh for all that you've done for me!"
author of The H.E.R.B.A.L. Guide
"Josh is an excellent representative of an integrative practitioner, able to provide excellent and timely acupuncture and TCM treatments, as well connecting those treatments with the patient's overall health picture (to optimize wellness.)"
Transform your health. Book your acupuncture appointment today!